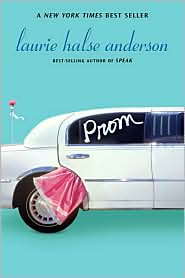 Title: Prom
Author: Laurie Halse Anderson
Source: Library
Date Finished: January 17th, 2011
Summary of book:
There are tons of books about the popular kids and some books about geeks. How many books are there about average kids? Kids that are passing, aren't in clubs and have no clue what they will do after high school. Ashley is an average kid. She has a boyfriend that everyone thinks is trouble but she's crazy about, and she has a part time that she doesn't like. On top of everything else she has an over-crowded house and her mom is pregnant again. She is certainly not the type to care about the prom.
Ashley's best friend is the total opposite of her. She is on the prom committee and has dreams of the prom. In fact, most of Ashley's friends are counting down the days and counting down pounds until they can have that one magical evening. Suddenly a teacher in their school was caught stealing all of the prom money. Ashley helps her friends organize a low budget, yet still fun-filled evening.
Review:
Love the cover. As I do most of Anderson's covers. But, I don't know where that dress came from. Wasn't Ashley's blue or green or something? lol, memory freeze!
Anyway..I'm much like Ashley(yes, I love comparing myself to characters). But, after reading this book, I want to go to Prom. I mean, yes, you spent hundreds of dollars on a dress, make-up, hair, limos, etc...and for what? To have a night to live like your a movie star? For a night you can remember, forever? And I think it's pretty much worth it. I'd even like to help with planning it for the whole school too. 'Cause from what I hear, you'd want to live that night over and over again. People would pay to have just another night of it. And I loved the way Ashley actually got to go, even if she sneaked in.
And I have to admit, *SPOILER* that I thought the whole night was going awesome. . .Until Ashley got arrested. She was trying to help! I mean, so she skipped out on detention, that night happens once a year and she willingly helped out. *END OF SPOILER*
So, in my opinion, live, laugh and love with all your heart. And don't let anyone stop you from having a little fun.